New Mercy Killers blog entry by Craig
24/09/2007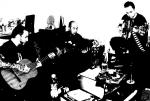 "New blood!
Good afternoon,
Lots of MERCY KILLERS news today! As of last night, we found a new guitar player in our good friend Shane Gallagher. Sampire and I spent the afternoon rehearsing the songs with Shane on acoustic guitars and it sounds AMAZING! Shane adds a whole new dimension to our music and even wrote some new 2nd guitar parts on the spot that are both exciting and tasteful. I'll do my best to try and get him to start a myspace so everyone can welcome him to our clan and send their blessings. Until then, heres a pic from yesterday...
In other news, for the upcoming TSOL/MERCY KILLERS tour, we have two new shirt designs. Expect them to be posted and for sale online and through mailorder early this week. Keep an eye out, we're super proud of our new designs and think you will be too. Two new shows have also been added to the tour:
10/10 - Spokane, WA @ Zombie Room (21+)
10/11 - Seattle, WA @ Studio Seven (all ages)
10/12 - Portland, OR @ Satyricon (all ages)
10/13 - Eugene, OR @ WOW Hall (all ages)
10/14 - Reno, NV @ TBA
10/16 - Tempe, AZ @ The Sets (all ages)
10/17 - San Luis Obispo, CA @ Downtown Brew (16+)
10/18 - Fresno, CA @ Club Fred (21+)
10/19 - San Jose, CA @ Blank Club (21+)
10/20 - Sacramento, CA @ TBA
10/21 - San Francisco, CA @ Slim's (all ages)
There still is no LA show on this tour, but fear not, We're working on a Los Angeles date in early November with THE BRONX, as well as some December dates with the one and only SOCIAL DISTORTION. More on these as they are confirmed.
Lastly, just to quell all the anxious fans of +44. Yes, Shane is playing guitar with MERCY KILLERS now, in *addition* to +44. Shane playing guitar with us affects nothing in regards to +44. As we have time off to write a new 44 record, I like to keep busy and play with MERCY KILLERS. And now we have another member pulling double duty with both bands, in Shane.
Incestuous? Yes. Fun and exciting? Definitely. Also expect to hear some new covers like Siouxsie and the Banshees "Into the Light", The Church "Reptile", Jov Division "Interzone", and GBH "Necrophilia."
Ladies and Gentlemen we have some new blood!
CRAIG"
Back to the Plus 44's news page