Mean Street cover
09/10/2003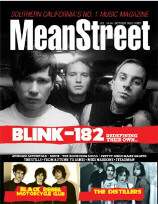 blink182
is on Mean Street cover this month.
It could be called "The story of a blink182 album" as every interview
performed during the recording process are quoted in this magazine.
As anyone could guess, it talks mostly about the next LP.
For six month, they allowed themselves more time to try out and explore
uncharted territories that maybe they never had time to do.
Despite a kind of nervousness at the beginning, they are now proud and confident
with it.
As Tom said : "I think that all the fans are going to love it.";
It seems it gonna rocks !!! =)
International official release : 11/18/2003
Back to the blink-182's news page