High school burns !!!
23/10/2003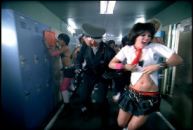 "Feeling this" video is available on blink182's official website.
The story?
Some very meek puipils ( they don't have choice ) who study in a kind of high-school-prison, with teachers that seems to come form a high security unit, just go totaly frenzied and smash everything.
All that with pretty women in their underwear ...
Definitely a nice video !!!
Back to the blink-182's news page